HAZELBROOK SUSPENDED SKYWALK BRIDGE
Project Description:
Great Western Highway Upgrade
Supply and construction of a pedestrian footbridge and a suspended slab for footpath relocation associated with the realignment of the Great Western Highway at Hazelbrook in the Blue Mountains west of Sydney. The Skywalk Bridge consists of reinforced concrete pile foundations and abutments with a fabricated steel frame superstructure, the main length of which is topped by a hardwood timber deck. A section of the walkway is a suspended reinforced concrete slab on piled foundations. Scope included environmental controls, earthworks, concrete abutments, fabrication and delivery of steel columns, handrails and mesh to be welded and erected on-site.
Complex Challenges:
The elevated skywalk was designed to provide pedestrians with a view of important indigenous axe grinding grooves and wells carved into the rock. To work around the artefact site without causing it any damage, the carved rock surface was temporarily covered with a dense acid-free foam matting and the area fenced off.
Traffic management, both road and pedestrian, was also an issue, as the site is immediately adjacent to the busy Great Western Highway. This was overcome in close consultation working with the Roads and Traffic Authority TA to set up safe temporary pedestrian access around the site.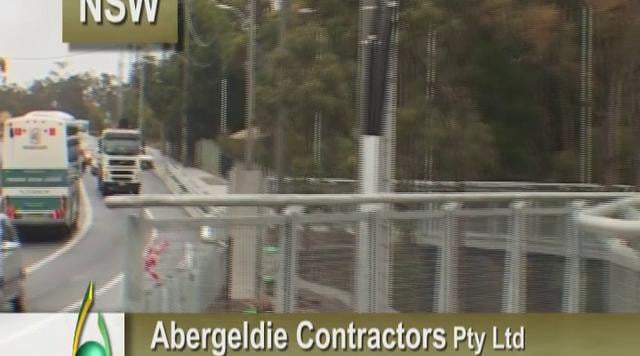 Roads and Traffic Authority